Hi guys! I've been off for about two weeks. These days have been so busy to me, since now I'm having full time work. I have to turn off my phone during my work time and PC is also out of my reach. I don't even have any time to tweet or post something on social media. My free time is pretty much filled with rest and rest. 😆
So I'm reviewing a news I got from Joe-san about GhaiNya thread. In last post I've shared a story about a fan doing Handshake with Ghashapon, and I used "Ghashapon" nickname for Ghaida. Few days later, Joe-san told me that fans in that thread really love that nickname! I was really shocked, as well as happy to know about it. I didn't expect Japanese fans would love the nickname. But actually I've always been curious what kind of name that Japanese fans would love to use to call Ghaida. If it happened to be "Ghashapon", then it'd be great! I think that nick really suits her. ^^
Oh, I recalled when a fanbase account for Ghashapon opened some small question and answer session. I asked, "Is there any special name used by Japanese fans for Ghaida?" The admin only answered, "Nothing particular, but usually they call Ghaida as Kamen Ghaida." Somehow I found that nickname was too plain, despite the fact that Ghaida is a fan of Tokukatsu series, especially Kamer Rider. She even calls her fans as "Kamen Ghaida". I really want her to have a nickname that is really specific, and when I got this nick on some "Ghaida Fact" pages (you can find random pages on Google contain real facts about Ghaida), I decided to use it as my "special" nickname for Ghaida. Maybe because Ghashapon has a lot of nicks like Ghainyan, Ghashapon, Mbuls (similar to "Fatty"), or any other names, her fans don't really think too much of using particular nickname for Ghashapon. I'm so happy that now Japanese fans already have special name for Ghaida. Isn't Ghashapon such a cute nickname for our girl? 😀
By the way, The Calendar Senbatsu voting has been closed yesterday. Ghashapon was in seventh place for temporary voting result, but what about the final? She said that she wanted to be with Nyash as Calendar Senbatsu, wonder if Nyash fans already gave many votes to fulfil Ghashapon's wish?
Hey, I also wonder, she should be having many poses like this one, right? 😛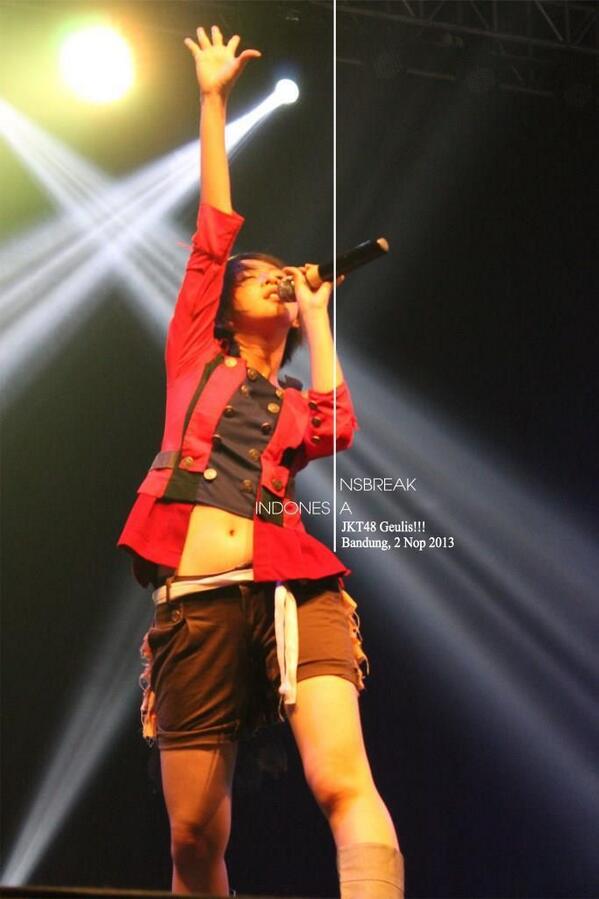 Before I forget, here is a side note; A comment from previous post saying that I should write more about GhaiNya Thread, because fans have always been curious of what Japanese fans would say about JKT48. We aren't that far in interaction with foreign fans, but not many Japanese fans can speak English and of course there are only few of Indo fans who can speak Japanese, sometimes it makes us difficult to communicate with them. I've meet some Japanese fans who also learn Indo, though they don't have to do that as long as they can speak English. Take an example of Nozawana-chan, who couldn't speak Indo at the beginning but could still communicate with members through English. As long as you can speak English, it's not a problem. Or maybe Indo is easier than English? I'm slightly curious of that. 😀
Also, if you have read my Q&A compilation page on Stuff, I will make the second session in the end of this month. Actually I was going to finish them by last month, but due to work and other things (forgetting that I have tasks, limited amount of free time, no PC available) I couldn't finish at all. So, cross your finger andw wish my luck!