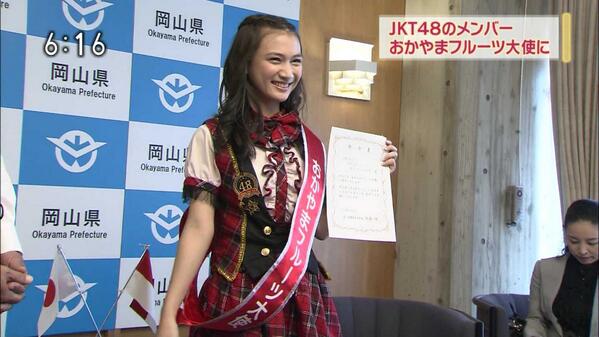 Credit to Taka-san (@IwanPalsu)
Yesterday was the inauguration day for Melody JKT48 as the Fruit Ambassador of Okayama Prefecture, Japan. Many Japan news had reported about this and we can find the videos on Youtube. But
I wonder… Why Indonesian news isn't concerned with it?
A friend on my twitter had voiced his thought regarding to this case by saying,
"Indonesian common people are ignorant with Melody JKT48 named as fruit ambassador. It's not acknowledged as an achievement."
Somehow I agreed with his opinion. On Twitter it may be spreading so fast, from tweets and retweets amongst the fans. It's gratifying, but another story happens on Facebook, or online news. When I posted several links from JKT48stuff contained the English translation from Japanese news, no one even made a single like on those three posts, let alone to post a comment. I even posted in on Fans JKT48 Lampung Facebook group, but it was ignored. We can take the conclusion based on these events : Melody's appointment as the fruit ambassador of Okayama Prefecture, Japan is as normal as having a sunny breakfast in the morning. Or, the news is only a late bloomer in Indonesia, since only one day past after the news had been published. Either way, I have to say it's upsetting if there's only a few amount of people who're concerned about it. It's not exaggerating, right? We should have been happy with her appointment. It deserves at least one single report on TV news.
I, as any other fans of JKT48 was kinda hoping that at least Indonesian people consider the good effect and potencial given from this news. Even if I weren't a fan and simply just happened to see the news, I'd be proud of her and feel that it's a waste if I didn't want to share it. According to the JKT48stuff articles (here and here), Melody will be homestaying in Okayama for three days and learning about algriculture in Japan. Since Melo is taking agriculture as her major and attempts to be the Ministry of Agriculture, it's a perfect opportunity for her as well as Indonesia's relationship with Japan. But unfortunatelly I still haven't heard much of her in Indonesia. No national news covers this appointment. Sort of dissapointing, if you ask me. While on the other hand there's a bad rumor lurking anywhere due to people fast judgement on something that isn't clear, Melody doesn't even have any acknowledgement of her achievement here.
Well, I have nothing to say about Indonesian news broadcast. Let's just hope that they are just a bit slow to respond… Or anything. *shrughs* I'm sure it'll be recorded in their show eventually. Nevermind though, I will still bid a great congratulation for Melody's appointment. She is not my oshimen, to be honest. But now I'm fully impressed with her. She's got to be very shining right now as an idol. Good luck for your homestay in Japan, Melo! 🙂